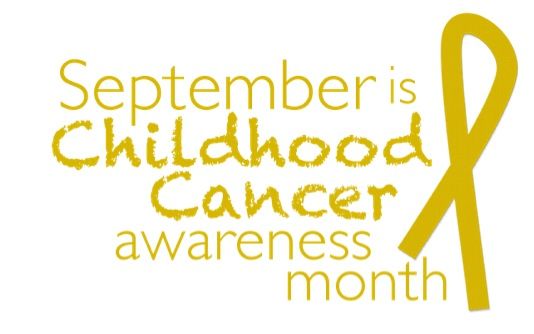 This is a longer post, but I would really appreciate it if you took the time to read this.


When a dear friend, Lauren, over at
Life.Love.Lauren.
approached me about spreading the word for Childhood Cancer Awareness, I was more than happy to help out.
Mainly because Childhood Cancer impacted my family in a way that nothing else ever has or probably ever will.
This is Kalyn. She was my sister's best friend and a little sister to me. Kalyn's family was THAT family - the one you do everything with, go on camping trips with, are allowed to spend the night during the school week with...our families were always together. Her older sister is my age and so our families were extremely close.
Kalyn was diagnosed with cancer when I was in high school. It was a roller coaster after that. I asked my sister if she wanted to tell the story, since Kalyn was such a huge part of her life...
Kalyn.
The one I turned to, shared my secrets with, and made me laugh—my best friend.
We met in elementary school and started out in the same group of friends. As the years went by, our group of friends evolved, yet we remained the same, if not closer with each passing year. This was the girlfriend I spent every waking moment with. We went to school together, studied together, had sleepovers together, got into mischief together….I think you get the point about this amazing friendship. We even brought our two families together through our relationship.
The end of 8th grade came and Kalyn's "sore arm" turned out to be much worse than a bruise or a torn muscle—it was cancer. The correct term is called Osteosarcoma, which in layman's terms is bone cancer.
I was in shock, not knowing anyone with cancer before and confused if I heard this right. Unfortunately, my ears were working perfect that day, and Kalyn had to go to chemotherapy treatments all summer. I called Kalyn and visited her as often as I could, trying to be there for her and comfort her when things seemed to be at its worst.
Surprisingly, we had some fun times in the hospital with new friends made, rides on her I.V. cart, make-overs, and sleepovers. The summer ended and so did her cancer, many chemo treatments, and a long scar down her entire upper left arm finally disappeared. She was in remission and served as a role model and motivational speaker to everyone she came across.
Everything seemed perfect and our prayers were answered, or so we thought. Spring break came along and we went down to Clearwater with some friends to celebrate the upcoming warm weather, with one stop on the way. Kalyn had a check-up, which threw us for a loop.
Her cancer came back where her "port" was. This was the area on her right side of her body where they inserted the chemotherapy. To make a long rollercoaster short, I'll just say that it didn't stop there. It spread to her diaphragm and her lungs and eventually stole her body without even considering her young age of 16 and all the loved ones she would be leaving behind. Although the spread of Kalyn's cancer was no news to me, the severity was. The family easily left everyone in the dark with how bad it was getting, with Kalyn receiving treatments in Texas, rather than at home.
The news of her death hit me harder than a freight train coming around a sharp corner at full-speed. This was the only time in my life I literally could not breathe. All I could say was "Oh my God, oh my God, oh my God" as I tried to grasp air. I never got to say good-bye to my best friend and never got to gain that full closure. Even to this day, I wish so badly that I had that moment to tell her how much I loved her as I squeeze her tightly.
As cliché as it sounds, words can honestly never describe this feeling of losing someone so dear to me so unexpectedly at such a young age. It's a hurt that still stings today, 7 years later. Life may go on without caring to stop to allow us to catch our breath from the hurt and pain. However, God gives me a short moment of comfort each time He strategically allows a monarch butterfly to flutter by me reminding me of this friendship I was graciously blessed with.
-----------------------------------------------------------------------
I became extremely depressed when Kalyn passed away. I was in the middle of my freshman year of college and I took a turn for the worst. I have never questioned my faith up until this point. How could we pray so much and believe with everything in us that God would heal Kalyn and then He just let her die?
I struggled for the next 7 months, partying, getting mixed up with the wrong crowd, doing anything and everything I could to drown out the pain and sadness I felt. It was the lowest point of my life.
I am so grateful to God that He placed amazing people in my life - people who didn't give up on me and kept encouraging me to get back on track. It was hitting that low place that finally pushed me to REALLY become saved. That is how I found my life verse:
"Now I'm glad that you were jarred into turning things around. You let the distress bring you to God, not drive you from him. The result was all gain, not loss. Distress that drives us to God does that. It turns us around. It gets us back in the way of salvation. We never regret that kind of pain. And now, isn't it wonderful all the ways in which this distress has brought you closer to God? You're more alive, more concerned, more sensitive, more reverent, more human, more passionate, more responsible. Looked at from any angle, you've come out of this with purity of heart..."
- 2 Corinthians 7:9-12
We will never understand why God took Kalyn from us, but what I do know is that hundreds of people were touched because of Kalyn and her story. Without Kalyn, I may not have the faith or relationship that I do with God. She was more of a blessing in my life then she could have ever imagined.
--------------------------------------------
Lastly, MD Anderson participates in a Children's Art Program. They let the children diagnosed with cancer create art that is then translated into cards, notepads, etc. This is a great cause and raises money for the children and their families who are struggling through cancer treatment. Here are Kalyn's items in the store:
I really encourage you to go and check this out!
Children's Art Store